Starbucks (first era)
Edit
Starbucks: Coffee, Tea, Spices
Edit
1971–1987
Edit
Starbucks Coffee
Edit
1987–1993
Edit
1992–2011
Edit
This logo was almost excatly the same as the 1987 logo, except for the siren, which was zoomed in. This logo was replaced with the "ringless" logo, celebrating Starbucks' 40th anniversary, however almost all of the Starbucks locations still continue to use this logo. The green was also made darker. As of 2011, this is now being used as a secondary logo.
Starbucks (second era)
Edit
2011–present
Edit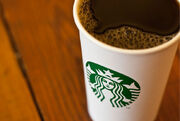 On January 5, 2011, Starbucks presented a new logo which omitted the ring with the words "Starbucks Coffee". The siren in a circle is now the entire logo and is colored green.
Ad blocker interference detected!
Wikia is a free-to-use site that makes money from advertising. We have a modified experience for viewers using ad blockers

Wikia is not accessible if you've made further modifications. Remove the custom ad blocker rule(s) and the page will load as expected.